Start Time: 6:30 PM (Doors Open at 6:00 PM)
Location: Gull Harbor Lutheran Church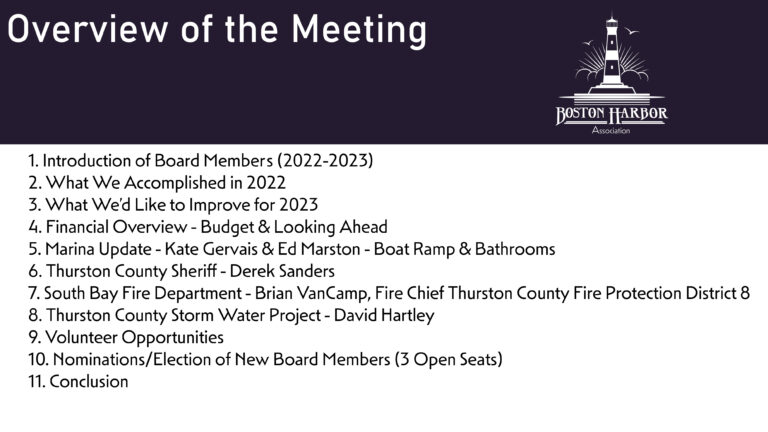 Hello Everyone!
As we approach this week's annual meeting we'd like to keep you all updated with an overview of the night's official agenda. We're excited to be hosting the speakers for our event and we feel this will be an excellent meeting for our community.
Introduction of Board Members (2022-2023)

What We Accomplished in 2022

What We'd Like to Improve for 2023

Financial Overview – Budget & Looking Ahead

Marina Update – Kate Gervais & Ed Marston – Boat Ramp & Bathrooms

Thurston County Sheriff – Derek Sanders

South Bay Fire Department – Brian VanCamp, Fire Chief Thurston County Fire Protection District 8

Thurston County Storm Water Project – David Hartley

Volunteer Opportunities

Nominations/Election of New Board Members (3 Open Seats)

Conclusion
When you arrive you will be greeted by board members who'll be checking your membership status and provide an opportunity to renew your dues before the meeting begins. If you'd like to move quickly through that process, please consider updating your dues prior to the meeting and we will get you checked in quickly and easily. Just follow this link to set that up:
We will also have tables set up to continue discussions with anyone you'd like to talk to, along the back walls of the room we are hosting in at the Church. 
What drives each and every one of us the the commitment to our community. This meeting will be a great opportunity to us to not only be able to connect, but a wonderful chance for you to field questions and potentially have them answered. There are a lot of exciting things happening in our community, and the County at large, and we hope to provide as much information as possible to help in any way we can.
The Boston Harbor Association prides itself in community engagement, with a particular emphasis on advocacy and guidance to help us all thrive in the landscape we all love. If you have any questions, please feel free to respond to this email or send a direct message to [email protected] and we will do whatever we can to answer, or refer you to someone who can.
We are here for you and look forward to seeing you all very soon.
Respectfully,
Boston Harbor Association Board