This page contains recent information about the Boston Harbor Garden Club, also known as the Sewer Sisters.

The Sewer Sisters thanks the BHA for their financial assistance last year which in part paid for the repair of the drinking fountain at Shipwreck corner. It is now operational and available for use by people and pets.

The following events have been held in 2022:
Sunday, February 13
The Sewer Sisters work party held on Sunday, February 13 was very well attended and much was accomplished: pruning, weeding, etc. With the expert pruning guidance and help provided by Bjorn and Michaele, sewer sisters and some family members : Kim, Mary, Judy, Grace, Nancy, Jess, Mike, Luke, Neil, Lee, Denise, Tom, Pam, Lasha, Billie, Margo, Kathleen, Nina, and Katie the Corner now boasts an impressive facelift. Special thanks to Bjorn for hauling away an enormous pile of debris in his truck.
Much thanks to Maureen for providing cookies and to Mary for bringing clementines.
The weather cooperated nicely – pleasantly cool with just a bit of mist initially, but overall a beautiful morning to be working outdoors.
Yes! There will be a Garden Tour this year, after a 5 year drought!
Sunday June 26, 2022 10:00am – 2:00pm
There will be 6 homes on the tour this year. In addition to the gardens, those hosts with solar panels will provide information about there solar panels. See the minutes from the April 9th meeting for details and check out the announcement card below: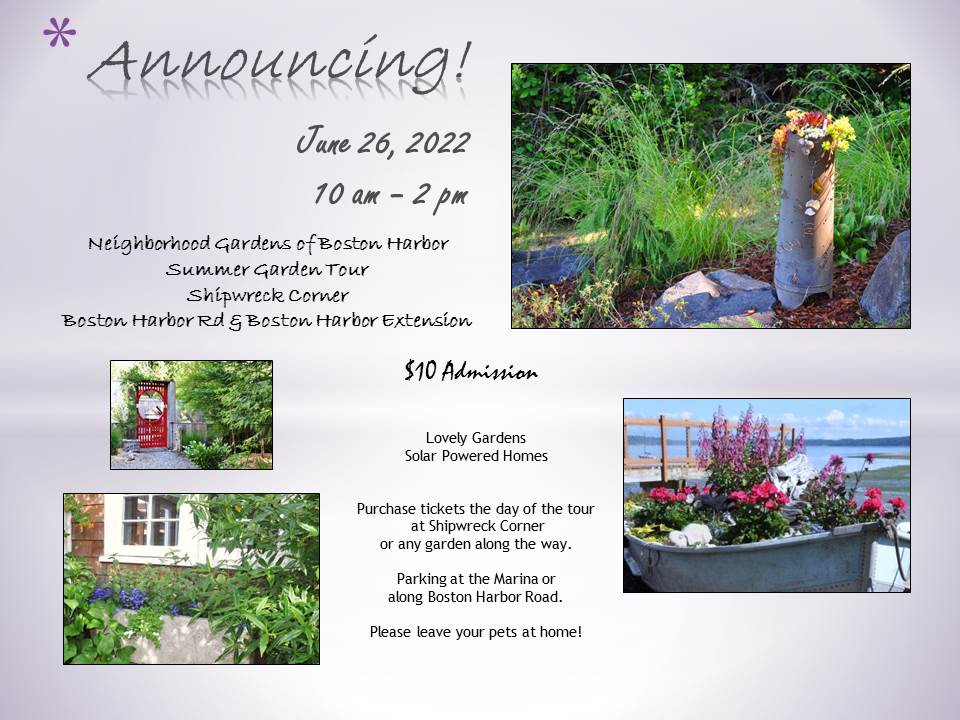 Thank you Christine Peck for hosting this meeting and Lynda Eich for helping with the refreshments.
There have also been two work parties at Shipwreck Corner in recent weeks (April 23rd and May 13th) with two more coming prior to the tour (May 21st and June 21st). Thanks to the diligence of many Sewer Sisters, the corner will look very nice by the June 26th tour.
The main purpose of the June 21st work party is to spread the wood chips that will be delivered on June 20th along the path. The job can be done in slightly over an hour if we get 4 people (able bodied men hopefully) to man the wheelbarrows and 8-10 others to spread the chips. This is one of the most effective ways to spruce up the corner!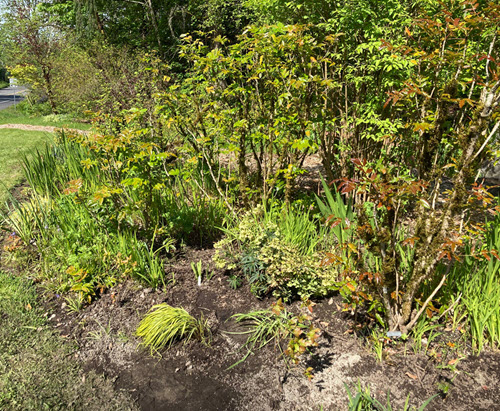 2021 Events
Thanks to Michelle and Bob Nanney we have a brilliant display of Christmas lights at Shipwreck Corner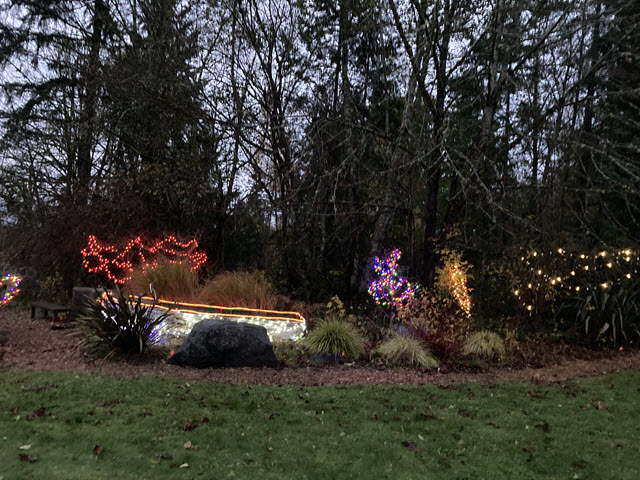 To date 2021 Sewer Sister activities started with a work party at Shipwreck Corner on March 13th. It was well attended and the ever persistent weeds were dealt a cruel blow. The weeds of course grew back so another work party was held on Saturday July 10th at the usual 9:30 time.
Saturday's work party at the corner was well attended and very constructive.
In attendance: Audrey, Grace, Jan, Kim, Mark and Joanne, Christine, Maureen, Mike, Jess, Luke, Neal, Lynda, Nancy, Mary, Margo. It was a three generational party, thanks to Maureen, Mike, Jess, Luke, and Neal! Thanks to all of you for helping to decimate the weeds again (at least for a while..)
The following events were recently held
The September 11th at Mary Gentry's home (516 Dover Point NE Olympia, WA 98506) was well attended. Details can be found in the minutes: Sewer_Sisters_091121_minutes
The purpose was to discuss:
Fall Work Party (October)
Holiday Party (December)
2022 Garden Tour (June 2022)
The Fall Work Party was held on October 9th from 9:30 to 11:00. Thanks to Michelle Nanney, Margaret Townsend, Grace Brewer, Tom and Cindy Eaton and their son David, Mary Gentry and Nancy Brown for pitching in to once again to revitalize Shipwreck Corner – there was much weeding and pruning and the chip walk got a face lift with Grace's edging skills.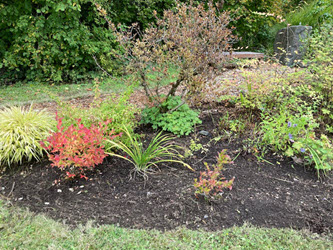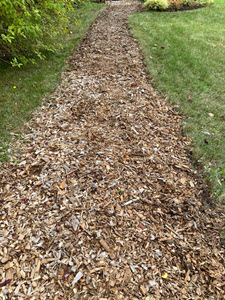 A subsequent meeting was held on 10/14 to discuss further work Michaele joined us and provided expert advice. Here is what we plan to do, some in the next few months, some in February:
A small but energetic group of Sewer Sisters took advantage of the rain free morning Saturday, November 13th to plant the daffodil bulbs that Mary Gentry provided. The group made short work of planting 100 bulbs. Everyone will appreciate the perky yellow when they bloom in early spring.
Back Area:
In February Michaele will come with Frank and extended saw to cut major overhanging branches. We will plan to work along with them for removal of smaller branches and hauling the debris. There will be quite a lot, as we got to looking in the trees!
Nancy will contact Joyce Hershberger (BH Assoc.) to see about getting the County to provide a trailer and haul away debris. If that is not possible, Michaele can haul away or we can see if Chris Hamilton, and other neighbors, will assist.
In the meantime, we can work around the area pruning anything lower that we can reach.
Front Bed:
We will thin the crocosmia, as it has become too dense, though it appears the deer are enjoying it as a sleeping area.
We also decided to remove a couple of the Mahonia plants because they crowd out other plantings, and are unsightly.
Once that is done, we will obtain some mulch with amendments, because the plants need some food. Michaele suggested "Braggers Blend" from Creations Organics. The company is located near the Squaxin Tribal Center. We can get a pickup load (1-2 yards). Great Western also has a product, but Michaele prefers "Braggers Blend".
The mulch will be underlain by several layers of newspaper or cardboard. Ed and Lasha suggested we get cardboard from Costco which they give away. It is used between bundles of product such as toilet paper. The cardboard comes in sheets and we won't have to fuss with removing staples and tape, nor tear down boxes. It sounds really convenient.
We talked about various plants to add and remove from the bed. Mary bought a bulk bag of 100 daffodils from the Satsop Bulb farm. A group of Sewer Sisters made plans to plant them in several locations at Shipwreck Corner on Sunday, November 7. Facing temperatures in the low 40's, strong winds and periodic torrential downpours even this intrepid group decided to bail and postponed the planting a week to November 14th. The bulbs will get planted in due time this fall.
Lee will follow up on Oysters and she has a contact besides Taylor. Michaele said that the trick with Taylor is to get our order in at the first of the summer because the shell supply goes fast.
Holiday Party – December 4, 2021
Covid-19 once again prevented our having the pre lighted boat parade event (typically at Mark and Joanne Koenig's). So no big party with homemade soup, bread and appetizers but the beach gathering was still held. The turnout was fairly small but those who did come were treated to nice weather (no rain or wind) and a spectacular parade. Rumor has it that Bonnie Kavanaugh and Eric Hurlburt had been the first to sign up earlier in the week and convinced about a dozen others to join them. The work involved to decorate the boats was impressive and well appreciated.

The group gathered at the beach in front of Lynda Eich's house (7205 Lighthouse Ln NE) around 7 PM. Lynda had built a bon fire on the beach and provided several hot drinks. Others brought delicious cookies.
===========================================================