Welcome to the official Boston Harbor Association website home page! BHA is a non-profit entity with a board of nine volunteers elected annually that organizes our July 3rd Fireworks Show, the September potluck, the neighborhood garage sale, the annual meeting and neighborhood projects as needed. During 2015 the Boston Harbor sign at shipwreck corner was replaced and several "historic signs" were erected. BHA is also our advocate voice to protect our peaceful rural lifestyle rich in local history, natural history and wildlife that we value. The Boston Harbor Association actively contributes to making our neighborhood a vibrant place to call home. BHA membership is the biggest "bang for your buck" available anywhere!
Please join us on December 21st for the Christmas Parade, Festival of Lights contest, and Candy Cane guessing game. Click here for details.
Also, if you haven't yet joined Nextdoor Boston Harbor online, you're missing out on updates and alerts such as whales in the Harbor, as well as neighbors sharing recommendations for service professionals, free items and current happenings. BHA uses Nextdoor to communicate upcoming events, notice of meetings, as well as crime/safety alerts.
Click here to access Nextdoor for Boston Harbor
Like our neighborhood, the BHA welcomes everyone to participate and to enjoy the community-building activities our board oversees. Become a BHA member today! Special Note: We are revamping our membership list and also need to verify its accuracy. We are therefore asking everyone, even current members, to complete our totally revamped Membership Form. You will also discover that the Donations Form has been revamped and is now more flexible and easier to use.
BHA Annual Meeting Feb 24th at 7pm.
The BHA Annual Meeting was held via Zoom this year. Minutes are provided on the Documents page. Two members of the 2020 Board stepped down (thank you Sara Cassals and Dan Doty!) and two Boston Harbor residents joined the Board (thank you Bob Nanney and Rachel Ustorf!)
Check the Documents page for information about what the Board hopes to accomplish in the upcoming year, especially how its activities remain affected by the Covid-19 pandemic.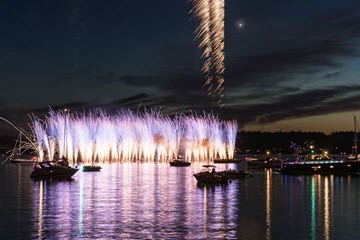 The July 3rd FIREWORKS came BACK!!!
We are excited to announce the fireworks show was held without any glitches in Boston Harbor this July 3rd. Rising vaccination rates, falling infection rates and new guidance about outdoor activities gave us confidence to move forward with the show and with the kid's bike parade as well. We asked that everyone follow CDC and state and local health agency guidance. We did suspend efforts to fund raise for the show due to the pandemic last year, but this year our sponsors came back and were excited to support the community.The show was 100% funded through sponsorships and generous donations for our neighbors in the community. We know the last year has been very challenging for many but if you have the ability to donate to the show this year we are very grateful for your support. The donation can is at the marina and you can swing by anytime. We looked forward to hearing the laughter and smelling all the wonderful barbecues on the 3rd – capped of with an amazing show and were not disappointed on any counts. The bike parade was well attended. The fireworks crowd was perhaps a little smaller than in previous years but there were still many smiling faces walking the local streets as night fell. The weather cooperated beautifully – not hot or cold and crystal clear. The fireworks display was one of the best ever!